High quality and very complete rendering plugin for SketchUp Pro and Studio. VRAY 6 for SketchUp is the finest and highest quality rendering solution for SketchUp. It provides all the lighting and rendering tools you need to create professional and photorealistic images and animations.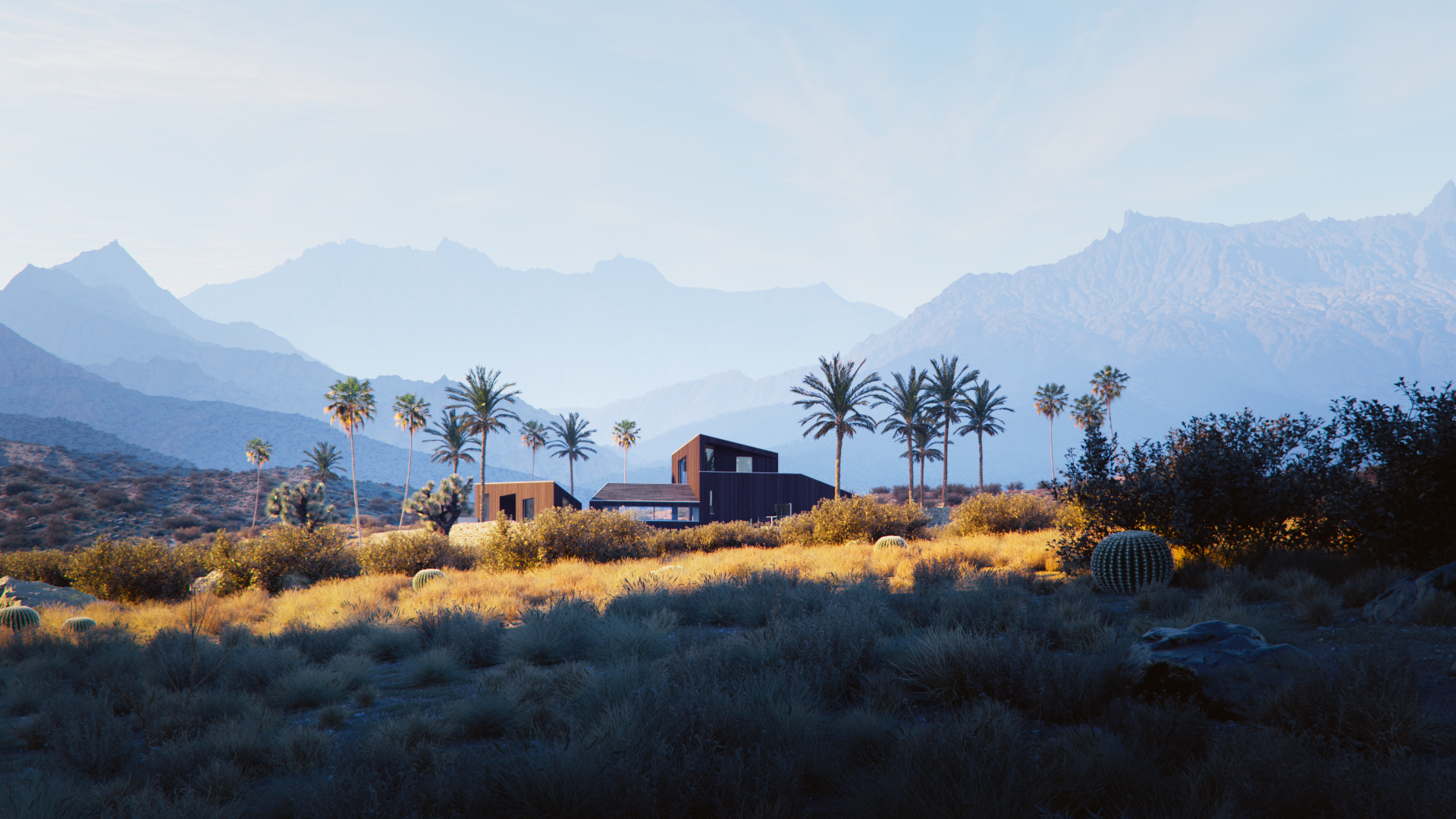 ---
Features
NEW in v6: Direct exchange between V-Ray & Enscape
With V-Ray 6, directly convert real-time scenes from Enscape and make them as photorealistic as possible. Because Enscape supports materials, objects and light, all design decisions are preserved during the various design stages. This ensures smooth collaboration between designers and visualization experts.
NEW in v6: Procedural clouds.
Add an appropriate cloud sky to any scene without spending hours browsing through HDRI libraries. The new procedural cloud system is a flexible and memory-efficient way to create any type of cloud sky and animate it for impressive timelapse presentations.
NEW in v6: V-Ray Enmesh
Create complex geometric patterns on object surfaces to create e.g. panels, fences and fabrics in an automated and memory-efficient way.
NEW in v6: Finish dome light
Refine scale and add depth to project environments when using (image-based) lighting with the new V-Ray Dome Light mode.
NEW in v6: Distance texture
Vary effects such as displacement or procedural coats based on proximity for realistic correlation between elements in a scene. Create a well-traveled path through a lawn or form dark patches under drainpipes.
NEW in v6: Iridescent materials
Create iridescent materials such as soap bubbles and oil stains more easily with the new "Thin Film" option.
NEW in v6: Asset tags
Group assets using the new tag system in the Asset Editor to improve the organization of scenes in complex projects.
NEW in v6: ACEScg color management
Take advantage of a wider color palette for performing renders with industry-standard ACEScg color coding.
Chaos Cosmos object library.
The new 3D content library, Chaos Cosmos,offers a variety of elements from categories such as people, vehicles, plants, furniture and accessories. With it, users can beautify any interior or exterior and don't have to spend time on geometry optimization or setting materials - the Cosmos assets are always render-ready and deliver high-quality results.
V-Ray Vision
Visualize your designs instantly in real-time as you work through in SketchUp. Navigate around your model, add materials, set lights and cameras - all in a real-time view of your scene.
Light Mix
Once your render is complete, you can interactively change the brightness and color of each light - without having to re-render!
Light Gen Tool
Adjust the lighting by simply choosing one of the automatically generated thumbnails. The thumbnails are rendered in a number of scenarios based on ambient light. Choose and you're ready to render.
Direct Post-Processing in V-Ray
V-Ray Frame Buffer with built-in compositing, so you can make color corrections, combine render elements and save them as presets to use in the future - all without needing another application.
User Interface
A design-friendly user interface for faster workflows.
Material library
More than 200 materials (drag-and-drop) to speed up your next projects.
V-Ray Swarm
A new and scalable distributed rendering system that allows multiple computers within the network to collaborate on a rendering via a web-based interface.
Denoiser
Automatically removes noise and provides up to 50% faster rendering times.
VR with one click
Render VR content for popular virtual reality headsets.
Cross sections
Create easy and fast cross-sectional renderings with V-Ray Clipper.
Aerial Perspective
Add realistic, atmospheric depth with aerial perspective and ambient fog.
Grass
Create realistic grass, fabrics and rugs with V-Ray Fur.
Dual Performance
V-Ray includes two powerful rendering engines. With CPU or GPU acceleration, you can choose the best engine for your project and hardware.
Interactive Rendering
Render interactively as you design. Finetune lights and materials and instantly see the result in the real-time preview.
Global Illumination
Render photorealistic rooms and interiors with V-Ray's powerful and fast global illumination.
Accurate Lighting
Render natural and artificial lighting using a wide range of built-in light types.
Ambient Lighting
Illuminate your scenes with an HDRI image or its surroundings.
Realistic Sun & Sky
Simulate realistic daylight for any time of day and location.
Photographic Cameras
Work like a photographer with control over exposure, white balance, depth of field and more.
Natural Materials
Create beautiful materials that look just like the real thing.
Advanced Textures
Create realistic and unique materials by using a texture map or one of V-Ray's many procedural textures.
Proxy Objects
Add more detail to your project with simple, memory-efficient proxies of complex objects such as trees, grass, cars and more.
Render Elements
Render your scene as separate passages for more artistic control in your photo editing software.
Frame Buffer
Keep track of render history and fine-tune color, exposure and more directly in V-Ray's frame buffer.
Network Rendering
Use the full processing power of your network to render one or more images
---
Featured Chaos Cosmos
Chaos Cosmos is a comprehensive library of hundreds of render-ready 3D assets. Users can effortlessly create lifelike context for the interior and exterior of their model by adding high-quality objects from essential categories, such as furniture, accessories, lighting, vegetation, vehicles and people.
Searching the objects is easy via the Cosmos browser. The objects are easily placed in the 3D design environment and therefore visible in any viewport. The Cosmos assets are render-ready (material geometry optimization is thus not required) and offer high-quality results with V-Ray, V-Ray GPU, V-Ray Vision and Chaos Vantage
---
About Chaos Group
Chaos Group provides innovative solutions for the media, entertainment and design sectors. For more than a decade, the company's flagship has been the V-Ray rendersoftware: the standard for speed, quality and ease of use. Various renowned studios have therefore opted for this render engine. Chaos Group is proud to support the 3D community with a suite of innovative software solutions: V-Ray for 3ds Max, V-Ray for Rhino, V- Ray for SketchUp, V- Ray for Revit, V-Ray for Maya, V-Ray for CInema 4D, V-Ray for Nuke, V-Ray for Unreal, V-Ray for Houdini, Chaos scans, Chaos Cloud, Chaos Phoeniz, Chaos Vantage, Chaos player and Chaos Cosmos