High-quality and very complete render plugin for SketchUp Pro and Studio. VRAY 5 for SketchUp is the nicest and highest quality rendering solution for SketchUp. It offers all the lighting and rendering tools you need to create professional and photo-realistic images and animations..
In addition to VRAY 5 for SketchUp, this plugin is also available for Rhinoceros and 3D Studio MAX in our web store.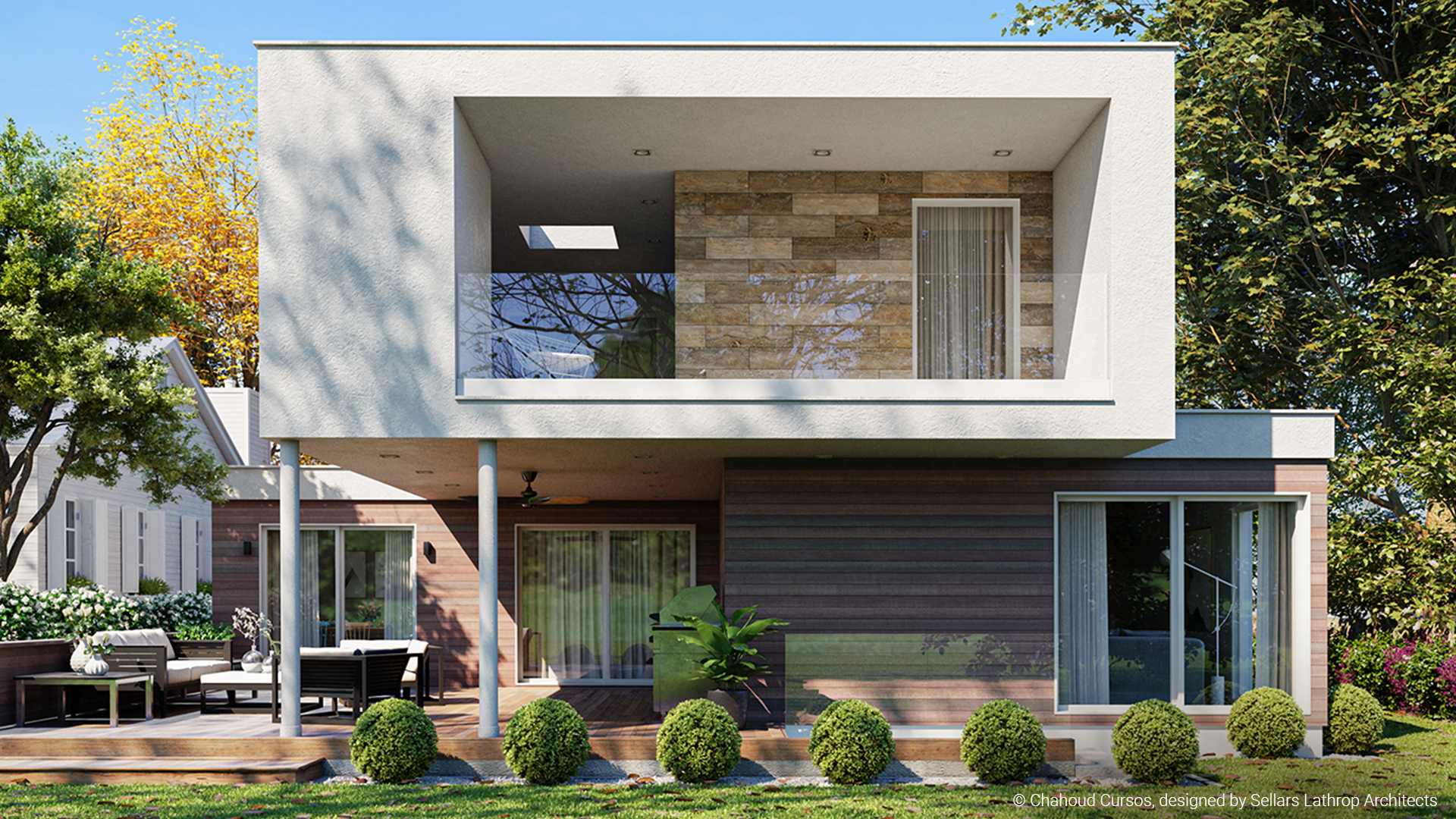 VRAY works directly from SketchUp.
Features in version 5
V-Ray Vision*
You know the real-time preview. But this is new! Visualize your designs instantly in real time, while working through SketchUp. Navigate around your model, add materials, set lamps and cameras - all in a real-time view of your scene.
*- V-Ray Vision is currently not available for Mac, it will be added in a later version.
Light Mix
Once your render is finished you can interactively change the brightness and color of each lamp - without having to render again!
VRayUVWRandomizer
A clearly repeating pattern is a thing of the past because of this tool. It lets you randomize the placement of textures criss-cross and includes Stochastic Tiling.
Improved Sun & Sky model
Render your scene in the perfect light! The improved Sun & Sky model is more accurate, with a better looking sunrise and sunset. Even when the sun sinks below the horizon.
Optimized V-Ray Core
V-Ray 5 offers a faster and better rendering experience.
New software architecture
Much faster loading and exporting of scenes thanks to the revised V-Ray backend.
Light Gen Tool
Set the exposure by simply selecting one of the automatically generated thumbnails. The thumbnails have been rendered in a number of scenarios based on ambient light. Choose and you're ready to render.
Direct Post-Processing in V-Ray
A new V-Ray Frame Buffer with built-in compositing, so you can make color corrections, combine render elements and save them as presets for future use - all without the need for another application.
New Layered V-Ray Material
The V-Ray Material now has built-in coating and shine layers (Sheen). Coat makes it easy to create materials with reflective coatings such as varnished wood, and Sheen makes it easy to create fabrics such as silk, satin and velvet.
Improved contour rendering
The general Contour control gives you more control over the line work, making it easier than ever to give your renders an illustrative look.
Dirt and weathering
It's not all gold that shines... Give your SketchUp models a weathered look with the improved V-Ray Dirt texture. Add dirt and streaks anywhere - in corners or across entire surfaces.
New documented API
For developers who want to create or connect tools for V-Ray for SketchUp, Chaos Group has added a new, fully documented API to make it as simple as possible.
VRscans
VRscans is a library with hundreds of lifelike materials based on the physical material. The scanned materials can be used directly in your VRAY render (SketchUp, Rhino and 3D Studio). The continuously growing library includes samples of car paint, fabric, leather, plastic and much more.
About Chaos Group
Chaos Group provides innovative solutions for the media, entertainment and design sectors. For more than a decade, the company's flagship has been the V-Ray rendersoftware: the standard for speed, quality and ease of use. Various renowned studios have therefore opted for this render engine. Chaos Group is proud to support the 3D community with a suite of innovative software solutions: V-Ray for 3ds Max, V-Ray for Rhino, V- Ray for SketchUp, V- Ray for Revit, V-Ray for Maya, V-Ray for CInema 4D, V-Ray for Nuke, V-Ray for Unreal, V-Ray for Houdini, Chaos scans, Chaos Cloud, Chaos Phoeniz, Chaos Vantage, Chaos player and Chaos Cosmos